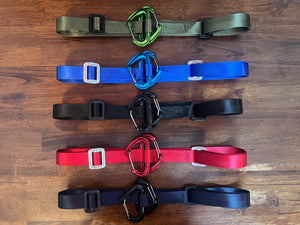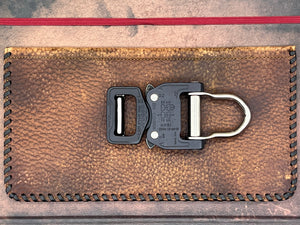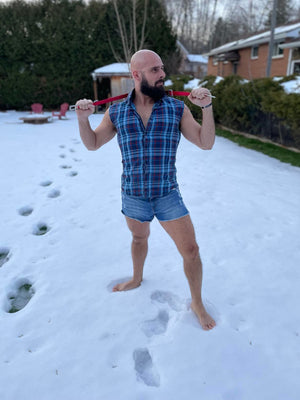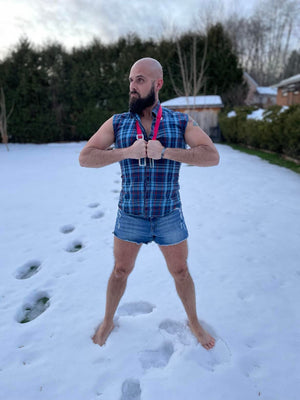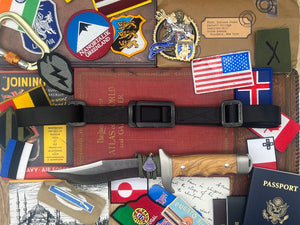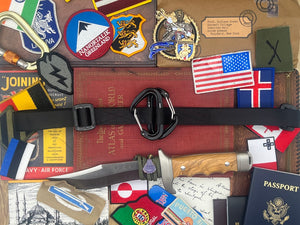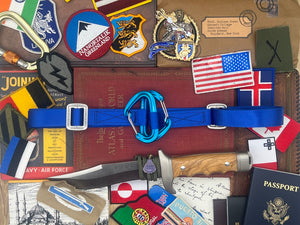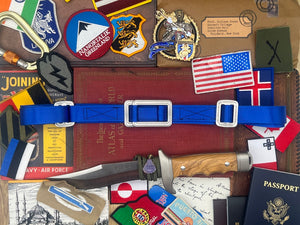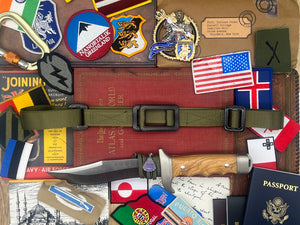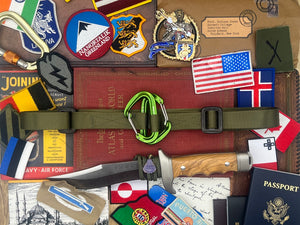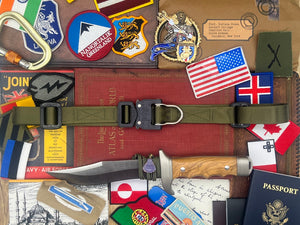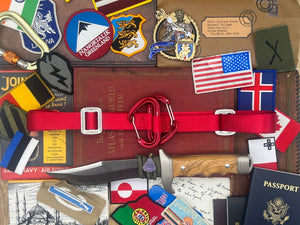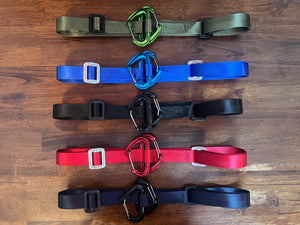 SnapSling Jr.
Jammock has redefined the belt.  We took an ordinary web belt and made it expandable to 79" long.  We added three buckle options: regular, carabiners, and Cobra.  We offer two widths, 1" and 1.75", and multiple colors to choose from.   We eliminated the post-buckle flop.  We turned an ordinary belt into a SnapSling, so you can carry your world.
For smaller belt loops, the SnapSling Jr.
The SnapSling Jr. is a universal sling that doubles as a 1" wide belt.  It is a lightweight, useful tool that goes anywhere you go.  The SnapSling Jr. expands from 33" to 78" in seconds to carry unexpected loads.  When it's your belt, it's always handy!   
We loop 1" webbing through two Austrialpin tri-glides and sew it to two Austrialpin frame buckles, two high-quality carabiners, or an Austrialpin D-Ring COBRA® ProStyle 18kN buckle.  
You need to carry a heavy gas can a few miles.
Your kid is tired of riding his bike. The bike is too small for you to ride, too low for you to push comfortably, and uncomfortable to carry as-is.
You're portaging a canoe. Don't put it on your head or grab a side.  Strap your SnapSling to a gunwale and go.
You're biking on the trail, fall, and bend your wheel so bad that the bike no longer rolls. You've got to carry it back.
You need an everyday sling to carry any number of cumbersome loads.
The Fine Print:
Belt loops must be at least 2" wide.
The SnapSling Trek belt will fit waists from 33" to 78"--there is no leftover flop.
We cannot guarantee the colors of the carabiners.  We can guarantee that they will be top-quality, name-brands.
Each SnapSling is custom-made in New York and is NOT returnable.
WARNING
The SnapSling is a rugged beast, but is not certified for climbing, belaying, or other activities where it is the sole piece of equipment standing between the user and painful death or injury.  The manufacturer makes no claims regarding the working load limit. 
Use your SnapSling within the reasonable limits of an uncertified piece of gear.  You will break before your SnapSling, but it is not a tow strap, and the manufacturer makes no claims regarding its ability to get your vehicle out of a jam.
Jammock Packaging Policy: Jammock believes that less is more and strives to minimize wasteful, expensive practices.  As such your SnapSling Jr. does not have any fancy packaging and will ship via the venerable U.S. Postal Service.
SnapSling Jr. Specifications
| | | | | | | | | |
| --- | --- | --- | --- | --- | --- | --- | --- | --- |
| Buckle | Buckle Breaking Strength (LBS) | Webbing Width (IN) | Webbing | Webbing Breaking Strength (LBS) | Webbing Thickness (IN) | Smallest Waist (IN) | Total Length (IN) | Total Weight (OZ) |
| AustriAlpin Frame Buckle 1.75" | 1686 | 1" | Nylon | 1144 | 0.038 | 33 | 78 | 3.4 |
| Mini Carabiner | 4950 | 1" | Nylon | 1144 | 0.038 | 33 | 78 | 4.0 |
| AustriAlpin D-Ring COBRA® ProStyle 18kN 1" | 4046 | 1" | Nylon | 1144 | 0.038 | 33 | 78 | 6.6 |