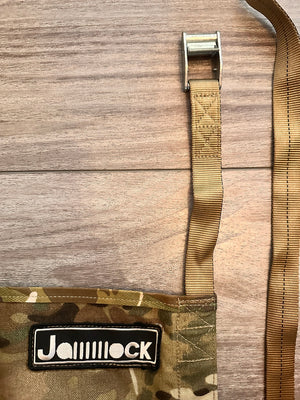 JammockMulticam for Wrangler
When we were experimenting with the Jammock's design, we tried some new things.  We have two JammockMulticams available.  They are new, sitting in a box, just waiting to come out to play.  These Jammocks can be used every other way the regular Jammock may be used, except: these Jammocks do NOT have asymmetrical buckle placement, so they cannot be used off the vehicle, as a sling seat, sorry.  
COMES WITH TWO JAMMOCK ROLLBAR HANDLES
These units are slightly smaller than the normal Jammock, but will still fit a Wrangler or Bronco--Nylon panel is 22.5" Wide by 45" long, straps are 10 feet long.
WE ONLY HAVE TWO UNITS, NO MORE WILL BE MADE.
No returns.