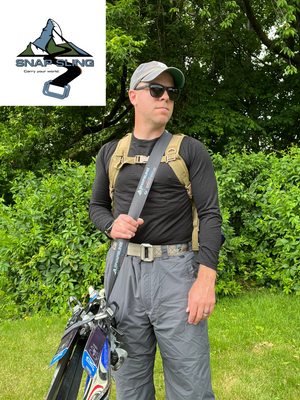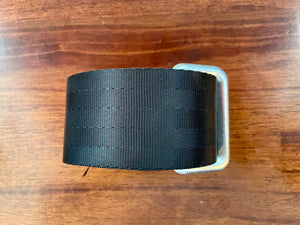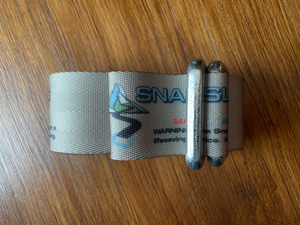 SnapSling 1.0 FINAL CLEARANCE SALE
The SnapSling 1.0 is a universal sling that weighs 10 oz (300 grams) and goes anywhere you go--because it doubles as a belt.
The SnapSling 1.0 was made in Oregon, is a discontinued prototype, and is NOT returnable.  Orders will be ship within one business day from New York.
We combine 2" webbing and two industrial loops (rated at 5,000 lbs each) to create a strong, versatile sling that doubles as a belt. 
BELT LOOPS MUST BE 2" TO FIT
Use it when you are unexpectedly under load. When it's your belt, it's always handy. 

You run out of gas. The nearest gas station is a few miles away. Hand carrying a heavy gas can is going to get old after half a mile.
Your kid is riding his bike and you're walking with him. He gets tired and doesn't want to ride anymore. The bike is too small for you to ride, too low for you to push comfortably, and uncomfortable to carry as-is.
You're portaging a canoe. Some guys put it on their heads and others team up and each grab a side. Neither technique is comfortable or efficient.
You are on the third floor of a burning building and need to escape out the window. You found 20' of rope. You need an emergency Swiss seat and a carabiner.
You're biking on the trail, fall, and bend your wheel so bad that the bike no longer rolls. You've got to carry it back.
You need an everyday sling to carry any number of cumbersome loads.